Battery Nutrunner DA1
New: Track construction battery nutrunner DA1
Mobile and suited for universal use
Low weight
Easy handling
Powerful and precise
Active battery charge indicator prevents inaccurate torque tightening due to low battery capacity
Working lamps can be placed in any position
Including two 5.0 Ah Li-Ion batteries
Including quick charger (230 V, 50/60 Hz or US version 110 V, 50/60 Hz)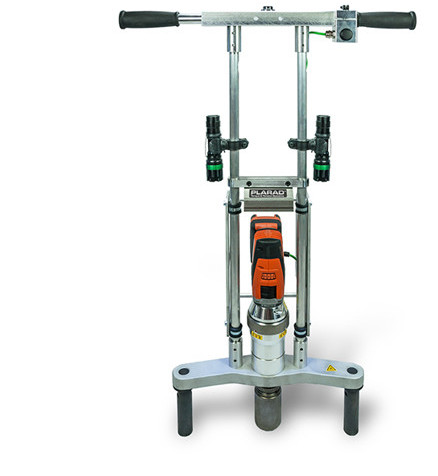 Special reaction arm for fast and safe assembly / disassembly of frog of the points.
The mobile measuring unit Torque Control TC1 can be easily integrated.
Battery Nutrunner DA2
Now with two 6 Ah batteries as standard.
We have clearly redefined mobile bolting to new levels. With the new DA2 battery tool Plarad is introducing to the market place a successor to the previously brilliant predecessor tool the DA1. A decisive step forward has been achieved with the newest gearbox technology which enables simpler handling, reduced weight and size. Mobile cordless bolting is now safer due to the additional automatic locking of the motor and gearbox.
Versions of the tool are available up to a maximum output of 4800 Nm. Optional Diagnostic Setting Software with power step lock and tool diagnostics enables the tool to be optimally set up for your specific bolting application.
Optimised handling
Even lighter and compacter than its predecessor
Automatic locking of gearbox and motor
Integrated free turning of motor
Active two step battery charge indicator
6 sizes up to a maximum of 4800 Nm
Optional: Diagnostic Setting Software (DSS) with step lock and tool diagnostics
Scope of delivery: includes qty. 2 – 6 amp batteries, charger, LED battery torch and a robust professional tool case.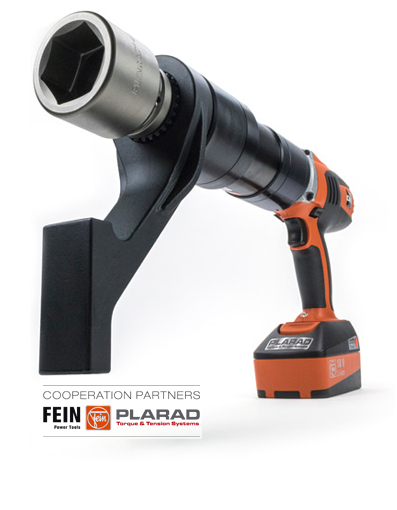 The DA2 together with its accessories in the tool case.